Challenge
Staticus is one of the largest full-service façade contractors in Northern and Central Europe. Staticus designs, produces, and installs curtain walls that are distinctive and sustainable, all delivered using the most advanced technologies available. Achieving this by leveraging their more than 20 years of experience and their innovative and agile approach. Their teams are located in six different countries and operate at the cutting-edge of the façade industry. And as a family-owned company, Staticus always acts responsibly by choosing environmentally friendly solutions and minimizing the impact of their operations.
Staticus had many activities in place dedicated to sustainability. And these have already resulted in significant changes and improvements. However, the strategy behind these activities was fragmented and needed structure to create long-term value.
Project goal
Staticus took the decision to create an integrated sustainability strategy which would link its business objectives with their future sustainability strategy to drive value creation for the company and its stakeholders.
An integrated sustainability strategy combines both business and environmental and social goals in a cohesive framework which creates value for suppliers, staff, clients, and other stakeholders, and for the business itself.
"We engaged with Sustainserv to guide us through the process of developing a sustainability strategy, something they have successfully done for many other clients around the globe."

Anastasiya Popova, Sustainability Lead at Staticus
Our approach
Our process for getting to a comprehensive sustainability strategy follows three clear stages:
Stage 1: Conducting a materiality analysis and
Stage 2: Defining objectives, performance indicators and actions.
Stage 3: Developing a communication and implementation roadmap
A materiality analysis is a way to identify priority topics from the perspectives of the business, external stakeholders, and society. It defines how material topics impact the company on the external environment (inside-out) but also how these affect the company itself (outside-in). These key material topics can then be plotted using these two dimensions in the form of a materiality matrix. This gives you a clear picture of which issues are relevant to all stakeholders, and which are very important but perhaps only from one perspective.
In a series of interviews with a wide range of internal leaders and external stakeholders, key insights were generated to better understand the market needs and the specific challenges to the value chain of Staticus.
Materiality assessments are key to getting to the heart of the environmental, social and governance (ESG) issues that affect a specific company and its stakeholders. Not all ESG issues affect every company, and a materiality assessment is the process of identifying the relevant issues and deciding how much they matter to an organization.
The materiality matrix for Staticus mapped a selection of all the key topics that were identified around sustainability according to how relevant they are to different parties.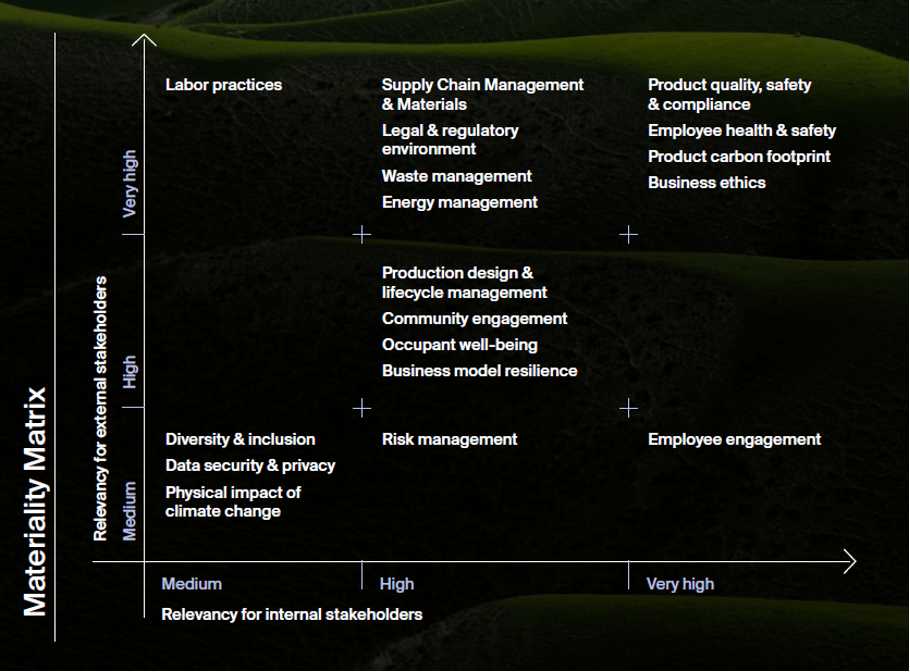 "For me, the most valuable part of this stage of the process was reviewing all of the strategic initiatives that we already had in place. We could work out what was still highly relevant, what was redundant, and where the gaps were."

Anastasiya Popova, Sustainability Lead at Staticus
Together with Staticus we developed a sustainable strategy map of 25 objectives, which brought together different sources of capital that would lead to the creation of value. A sustainable strategy map describes the cause-and-effect relationship between existing and future objectives, combining both business and sustainability goals to create an integrated picture to serve as a foundation for target-setting and measurement.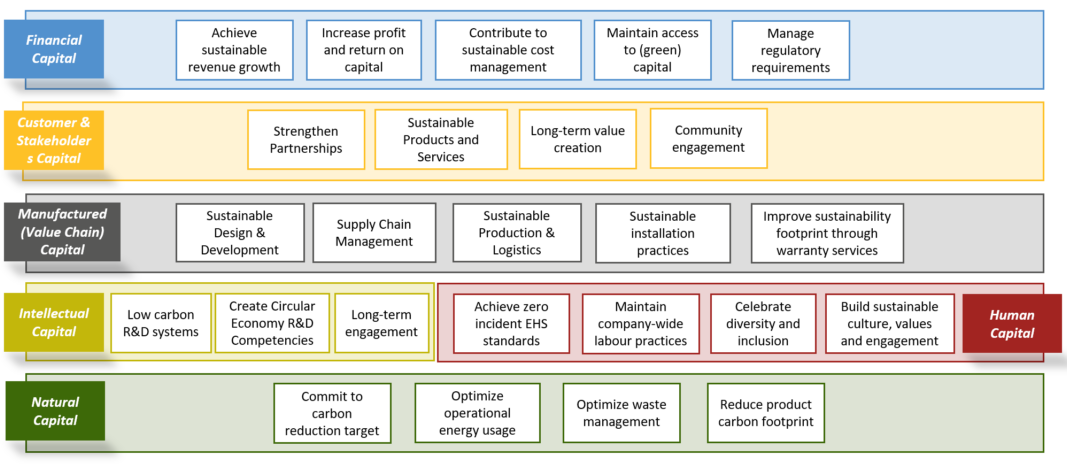 Results
The sustainable strategy map acts as a framework for setting out individual objectives, defining the necessary performance indicators, the target values reflecting the ambition and the action required to achieve the targets. These goals allow for the systematic collection of data from the various sources that were brought into a single pool of sustainability-related information. In this repository – our so-called sustainability strategy map – each sustainability objective was clearly described with the corresponding projects and their owners, as well as the KPIs to be measured.
To achieve this, a lot of work went into understanding what relevant sets of data for performance measurement were required, the individual responsibilities and the frequency of reporting. Now, having clearly defined the ownership and the format of data, as well as the performance metrics, it will be easier and faster to track Staticus' progress towards their sustainability goals.
"Identifying truly impactful approaches to corporate sustainability is challenging. How can you tell if it is just for show, or if sustainability is integrated fully into the strategies and operations of a business? Sustainserv played a key role in helping us form our sustainability strategy."

Anastasiya Popova, Sustainability Lead at Staticus
As part of the rollout of the sustainability strategy and to successfully communicate internally and externally, the Staticus CEO worked with the team to establish a focused list of key areas of importance that supported the Staticus brand.
Transparency: committing to transparent reporting, communication and compliance.
Partnerships: ensuring to share the same mindset and keep close cooperation with partners, both upstream and downstream.
Innovation in design and delivery: investing in R&D activities focused on low-carbon solutions, circular construction, and IoT systems.
Climate protection: monitoring and improving the carbon footprint of both the projects and operations.
Being a sustainable organisation: dedicating to education and training efforts to bring all team-members equally onboard with sustainability.
---
Get in touch.
We are happy to tell you more about it.