Earlier this year, the World Economic Forum released the 16th edition of its annual Global Risks Report. In it, authors point to climate change as a continued catastrophic risk, worsened by weakened global cooperation. Among the report's most major findings is that "climate action failure" is the most impactful and second most likely long-term risk to global business.
Without question, there is a loud and global call to action from government and industry alike for companies to engage immediately on understanding and mitigating the impact of their emissions. It's important to note that taking action benefits businesses as much as it does the climate.
Companies and the climate are locked in a feedback loop.
A clear interaction between business and climate is evident, with each affecting and being affected by the other. This has created a feedback loop, indeed an opportunity, in which businesses can take deliberate steps to halt or reverse their contributions to climate change, and mitigate the risks they may face.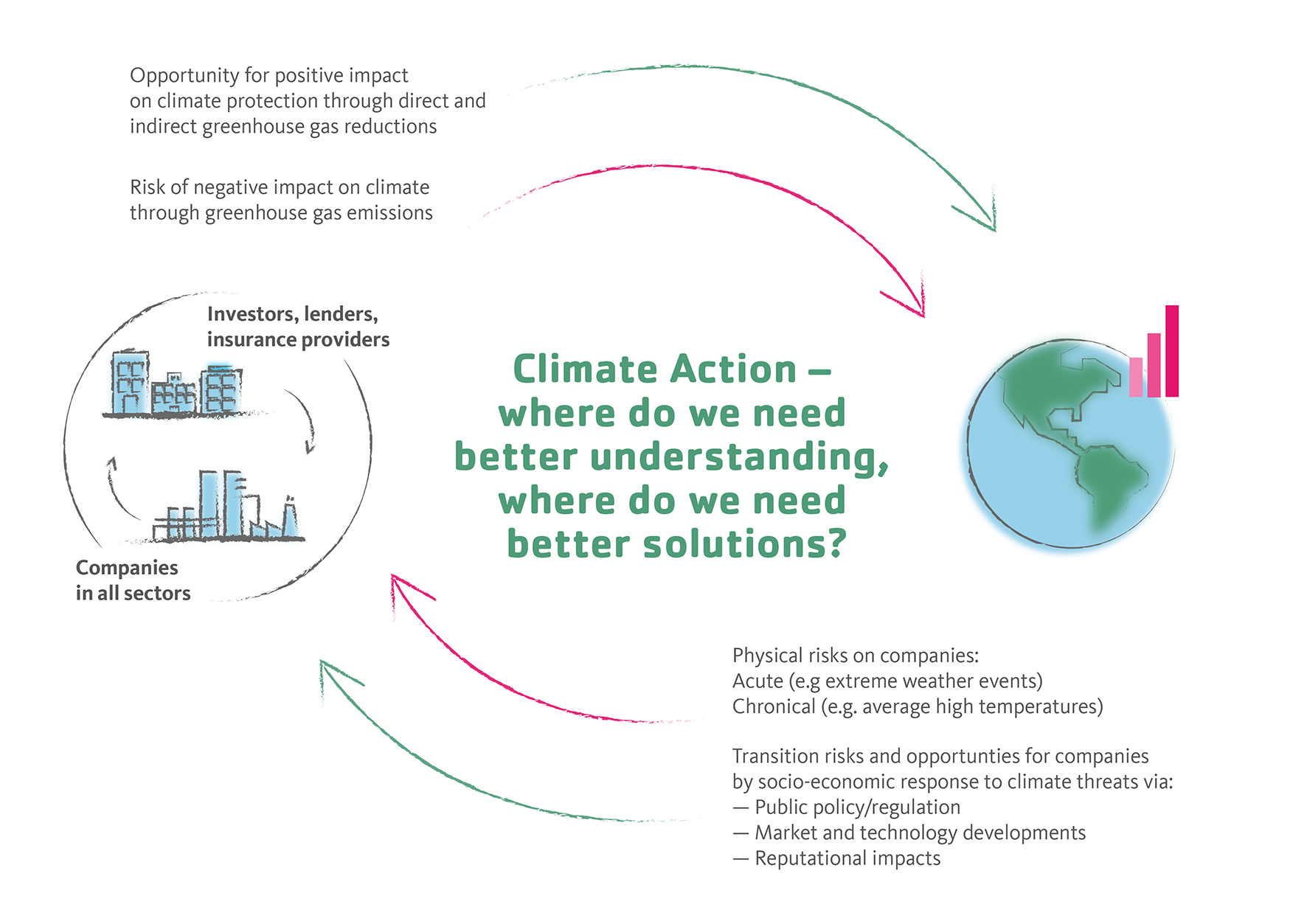 Customers, employees and other stakeholders are aware of this interaction and for some time now have exerted pressure on companies to work toward a low-carbon economy. Investors are also aware of the investment risk represented by climate change and are increasing the pressure on companies to understand their specific risks, proactively integrate climate change in risk management, develop a strategic climate response and increase their climate resiliency.
How Sustainserv helps companies position for a low-carbon economy.
Through our suite of climate services, we can help you proactively design appropriate ways for your company to reduce emissions and contribute to slowing climate change. To tackle the upper half of the Climate Action Feedback Loop (the company's impact on the climate), this starts with knowing your emissions and understanding how those emissions contribute to climate change. This is followed by setting goals and developing road maps and action plans to manage and mitigate these impacts.
Know your impact.
For companies that don't yet know their emissions, Greenhouse Gas (GHG) inventories are an important first step. We help with data collection, consolidation and analysis using the leading international standard – the Greenhouse Gas Protocol – as a relevant guide. We help you analyze the data for Scope 1 and 2 (your own operations) and develop an understanding of Scope 3 (activities upstream and downstream of your operations).
Evaluate the risks to your operations from climate change.
The lower half of the Climate Action Feedback Loop involves understanding scenarios and how your company would be affected by climate-related events that have some likelihood of happening. This process may reveal vulnerabilities in your operations for certain scenarios. In those cases, a company can make changes that fortify its ability to cope with climate-related events. Read more about scenario-based materiality assessments.
Set goals and make a plan.
Once you understand your emissions and impacts, setting goals and developing a road map to achieve those goals are the next key step. We can help you build scenarios for feasible but ambitious goals – and formulate an approach by establishing a Science Based Target (SBT).
Science-based targets (SBTs) are emissions reduction targets aligned with the latest scientific climate change consensus and based on comprehensive greenhouse gas inventories. We can help you calculate and implement SBTs and prepare your official submission to the Science Based Targets Initiative.
Look beyond your walls.
Once they are in the hands of your customers, your products are not done causing emissions. It's important to consider the product life cycle to fully analyze its climate impact. We help you apply Ecodesign and Life-cycle-assessment (LCA) approaches to analyze your products and identify effective solutions. This can consist of screening calculations to ascertain which phase of a product's life cycle represents the biggest impacts, or a more detailed, comprehensive analysis according to ISO14040 or other standards for LCA.
Life cycle assessments (LCAs) evaluate the full environmental impact of your products or services. We work out the best, most resource-efficient approach for each assessment and perform LCA calculations according to international standards and best practices.
Report publicly.
There are several reporting bodies that oversee and influence standardized sustainability reporting, such as the Value Reporting Foundation (a 2021 merger of IIRC and SASB), CDP (read more about how to respond to CDP here: Seven Tips for your CDP Climate Change Response), CDSB, GRI and TCFD. The TCFD (Task Force on Climate-related Financial Disclosures) framework, which encourages the disclosure of information related to the potential financial risks a company faces due to climate change, is a particularly important new disclosure that encourages companies to think about, and disclose, the risks, strategies, governance and metrics related to their climate impacts. Using one or more of these in the public and transparent reporting of your goals and progress legitimizes and substantiates your efforts.
The TCFD (Task Force on Climate-related Financial Disclosures) supports investors, lenders and insurance underwriters in effectively assessing and pricing climate-related risks and opportunities. Read more here: What Is the TCFD and Why Is It Important?
Engage with stakeholders.
Another benefit from reporting your efforts is the opportunity it provides to engage with customers, employees, suppliers and investors on their interests and expectations regarding your climate performance. Greater engagement leads to greater stability, longevity and profitability.
Don't be afraid to think big.
We work with clients to think beyond reductions to net-zero and even net-positive, whereby a company could reduce more GHG in the atmosphere than it produces and make significant reductions to climate-related risks.
Whether Net-Zero or Net Positive can be achieved through efficiency gains, renewable energy usage, carbon offsets or carbon removal (or likely a combination of these elements!), we can help you chart a course to where your net emissions approach zero or even result in net removal of carbon from the atmosphere.
Benefit from our expertise.
The Sustainserv team has over 100 combined years of experience helping companies understand climate and other ESG-related risks that they face. Our team offers end-to-end solutions, from business strategy and the technical accounting of climate impacts and risks, to the internal and external reporting and disclosure of risks and opportunities.
---
Get in touch.
We are happy to tell you more about it.