Zurich – The Global Reporting Initiative (GRI) provides a framework for transparent communication of sustainability performance enabling companies disclose their performance in a comprehensive and comparable way.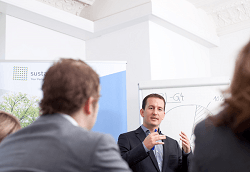 In our GRI certified training courses, you will receive an introduction to the GRI Standards and an overview of trends in sustainability reporting, practical guidance and tools for the introduction and optimization of sustainability reporting in your company.
The GRI training courses are offered as two-day courses (2 x 8 hours) or as half-day courses (advanced) at a central location in Zurich. Presentations, case studies, group exercises and discussions help participants apply the course content actively and strengthen the learning experience.
See here for more information